Huffington Post: PowerMoves.NOLA Innovates How Investors And Minorities Connect
07/13/2015 05:31 pm ET | Updated Jul 13, 2015
By Zandile Blay
Style & Culture Columnist
The lights dimmed. The crowd settled. The room fell silent with anticipation. It may have been day one of ESSENCE Festival, but this audience of young men and women were not here for Usher or Kendrick or Mary. Instead, they'd traveled far and wide to see stars of a different stripe: young CEO's behind tech's most buzz-worthy companies. These startup-stars were converging – and competing – for a grand opportunity: the chance to score life-injecting dollars from powerful investment firms, venture capitalists and angel investors. The strongest pitch would earn $25,000 in capital.
Who would win?
For at least one person in the audience that question held no allure. As Leslie Jacobs surveyed the stage – she was too busy savoring the display to ponder the outcome. After all, from the packed audience, to the seasoned investors, to the brilliant entrepreneurs – she'd envisioned this a long time ago. In fact, she'd done more than visualize: she'd prepared, planned and pushed to make this a reality. It had taken time, tenacity – and the help of countless others – but she'd done it. She'd created PowerMoves.NOLA.
FOUNDERS DAY
It's slow in coming, but when Leslie Jacobs breaks into a smile – it's truly a sight to behold. Bright, beautiful and beaming with warmth, it immediately puts you at ease. But don't be fooled. It belies a steel will and piercing intelligence which have cemented her thirty year career as one of the most successful business leaders and education activists in the city of New Orleans. From transforming her family insurance firm into one of the best in the nation (it was merged with and eventually acquired by Hibernia National Bank, which became Capital One) to serving government appointed positions on Louisiana's Board of Elementary and Secondary Education, Jacobs' efforts landed her several accolades, including mentions in Forbes Magazine and selection as New Orleanian of the year.
Yet the most fulfilling reward for her efforts has been the most elusive yet: success of students from the city's low income communities – often Black and Hispanic children. "For many, their parents either don't work or are in a minimum wage job," she says, "They have no idea what the career opportunities are for them. You can have all the talent in the world but if there is no exposure or no opportunity to grasp that – it goes no where."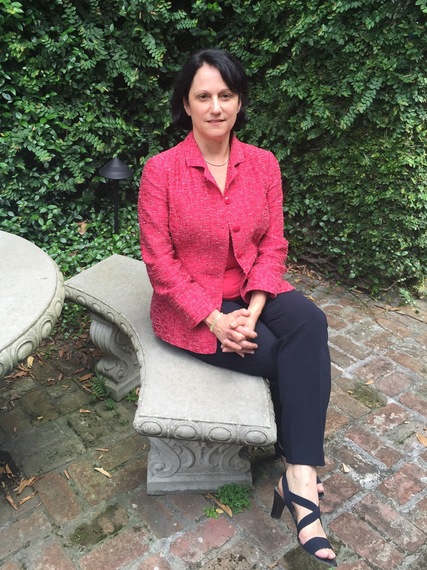 By 2013, Jacobs, above, stumbled upon an innovative contribution to the solution. Informed by her tenure as President of the New Orleans Start-Up Fund, Jacobs realized minorities played little to no role in the business landscape of her city. "When I looked around our ecosystem," she remembers, "it was overwhelmingly white and overwhelmingly male. I believed there had to be more talent out there." Initially, Jacobs sought to narrow that talent search exclusively to African-American women – in a nod to one of New Orleans' largest annual events: ESSENCE Fest.
"I started to ask around and the general feedback was, 'You're never gonna find these women.' I heard that from African-Americans, I heard it from Caucasians. I heard it all over. I thought, 'Oh My Gosh, I just committed that we would pull this off. I have to go and find these women."
Naturally, she did.
With the help of various colleagues and contacts in town, the pool of talent she found was so deep that her search expanded to include men and women from all minority groups. By early 2014 the momentum materialized as PowerMoves.NOLA. Conceived as a hyperlocal organization, it carried with it a mission to provide NOLA's entrepreneurs of color with a platform to connect, engage and raise funds from institutional investors and angel investors. For Jacobs, providing access to funds was central to building a robust entrepreneurial class in the minority community.
"Once an entrepreneur has a great idea, the real support they need is cash" says Jacobs. "The lowest hanging fruit for that money often becomes people in your immediate network. They invest in you because you are friends or family. That's why it's called the 'Friends and Family Round,'" explains Jacobs. "But if you don't have rich friends and a rich family it's pretty hard to raise that round."
By Summer 2014, PowerMoves.NOLA was poised to make the process easier. By attracting a talented class of diverse entrepreneurs to the table, PowerMoves.NOLA was able to secure top-notch sponsors like Chevron and Entergy. As interest grew, so did attention from entrepreneurs and investors from other cities. For Jacobs, the growing exposure meant one thing: it was time to get help.
"One, I was not going to keep this pace up," she explains. "It's a new stage in my life. I'm a grandmother. I have a daughter in New York and a daughter who's moving to California and I want to see them. Two: I wasn't the right person. I'm actually not a private equity or VC person. I made my mark in the insurance industry. And three – I quickly realized we were hitting a national vain, and I don't have the energy level to take it national."
She pauses – and breaks into her high-wattage smile as she remembers the moment. It was time to appoint the first president of PowerMoves.NOLA.
MR. PRESIDENT
He seemed straight from central casting.
Tall, handsome and armed with impeccable credentials, Earl Robinson has crafted a career tailor-made for the would-be president of PowerMoves.NOLA. Born and raised in New York City, Robinson was educated at Wesleyan University before heading to Columbia Business School to earn his MBA. His career began on Wall Street, where he gained extensive experience in private equity investment, mergers and acquisitions as a senior executive at both JP Morgan Investment Management and Morgan Stanley & Co. After ascending the corporate ladder, Robinson became an entrepreneur, launching several companies before moving to New Orleans as a partner at RLMcCall Capital.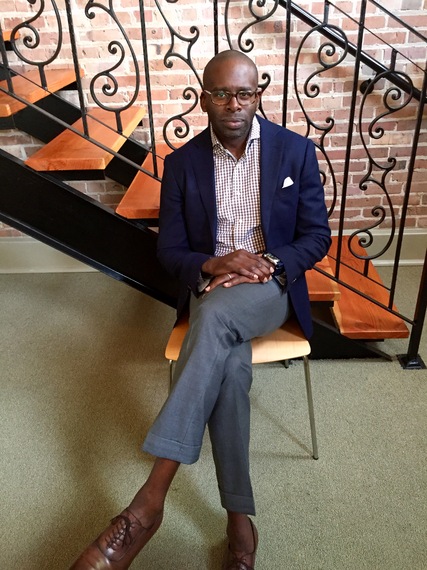 The depth and range of his experience imbue Robinson, above, with the confident manner of a seasoned executive, but it's his battle scars as an entrepreneur that perfect him for his latest role: President of PowerMoves.NOLA. "I know how soul destroying it is as an African American entrepreneur seeking to raise capital," he shares. "It's an incredibly painful process. You look at your resume and say to yourself, 'I went to a prestigious school, I worked at a prestigious firm and now I got this start up and I can't raise any money!' "
Earning crucial investment dollars in the early stages of a company is a thorn in the side of any entrepreneur – but statistics show minorities are disproportionately impacted. CB Insights, which tracks successful start-ups and the venture capitalists who invest in them, provided context for the startling statistics in a 2010 report: "When we ask venture capitalists what gets them excited about the young, emerging, and often unproven companies in which they invest we never hear about deals and dollars. Rather, the first answer is frequently 'the team' or 'the founders'. This demonstrates just how crucial human capital is in VC (venture capital) investment decision-making."
Their research revealed: 83% of VC backed firms were from companies owned/ led White founders, 12% were Asian, and only 1% Black. While an assumption of racism on the part of institutions and investors may be the knee-jerk explanation for the numbers, Robinson believes reality is a lot more nuanced.
"There may have been a black kid in their dorm or in their class," says Robinson, "But chances are they don't know anyone like you, so when you walk into a room asking for millions of dollars, the first hurdle is whether or not you feel familiar to the funder. If there is nothing familiar about your presence or your language or the things you're thinking about or talking about- it's a really really tough climb."
But it doesn't have to be. PowerMoves.NOLA proves that point with Crystal McDonald, an entrepreneur and fellow in their program. Mcdonald is the founder of Go-To-Interview, a site which streamlines the interview process for companies. Earlier this year MCDonald scored $100,000 investment directly from AOL Co-Founder Steve Case during his 'Rise of The Rest' pitch tour. It proved a savvy move for Case and his wife, Jean, both of whom were judges. Since then, the valuation for the brand has increased significantly, translating into a rapid return for Case – less than a year after his investment.
"Sometimes venture capitalists invest in the entrepreneur not the idea," says Earl "When you walk into a room and you pitch to venture capitalist or strategic partners they're like, 'You know what? This idea is okay now, but man she is going to get it right at some point. We probably want her somewhere up close. Let's figure out how to support her.' "
For entrepreneurs like McDonald who benefit from access to investment capital, the impact kicks off a domino of positive effects for the entrepreneur, the business – and the community.
"This is not about Ferrari's and penthouses and increasing personal wealth" explains Robinson. " It's about empowering minorities to self solve some of the issues that we have historically have looked outside to be solved. Think about what Bill and Melinda Gates have been able to do with the Gates Foundation?" He stops – almost as if pondering the answer himself. "If you put wealth like this in the hands of a diverse and broader group of African Americans and Latinos and Asian Americans…imagine the things we can do for our own communities. "
THE BIG STAGE
Back on stage, Matthew Burnett has fifteen minutes to earn $25,000.
As the first of five entrepreneurs to pitch his company during this portion of the PowerMoves.NOLA 2015 conference – it's fair to say the pressure is on. It's not made any easier by the profile of the panelists he's pitching: Chinedu Echeruo founder of HopStop.com and Tripology.com, which were accquired by Apple and USA Today, respectively; Carla Harris, Vice Chairman for Global Wealth Management and Managing Director and Senior Client Advisor at Morgan Stanley; Nicole Irvin, Head of Technology Execution and a Vice President in Morgan Stanely's West Coast Technology Investment Banking Division and Raymond J. Jeandron III, principat at LongueVue Capital.
He's handling it well though.
Crisp, clear, and impeccable in delivery, Burnett sets an incredible tone. By the end, everyone on stage and in the audience is electrified by his company, Makers' Row. The online, business-to-business platform streamlines the manufacturing process for brands – of all sizes – looking for manufacturers in the United States. His passion for stimulating the resurgence of made-in-America products and production is palpable. Once he's done, Burnett, like the four other presenters who showed after him, steps off stage while judges enter a closed-door deliberation.
A seasoned pitcher with substantial fundraising experience, Burnett maintains an unflappable cool.This may not be his first time at the rodeo – but thanks to PowerMoves.NOLA and its high concentration of minority advisors, investors and entrepreneurs – this is his most diverse rodeo yet. It's a difference he appreciates. "Most investors don't look like you or identify with the problems you might be addressing" he explains off stage. "So if you are addressing problems that are in the black community, in the Latino community or even in the women's community most investors have no idea what that looks like."
For Burnett, that familiarity is key in order for investors and entrepreneurs to truly understand the value proposition of a business – and therefore spot a good deal when they see one – regardless of race, gender, or background. To further illustrate the point, he references his own challenges in familiarizing tech-savvy investors on his specialty: manufacturing. "If you don't understand manufacturing, I am spending a half hour educating you on what manufacturing is and educating you on the fact that there are American manufacturers out here and the whole business proposition," says Burnett. "Ideally, I can step into a meeting and you already understand the problem so that when I come to you with the solution, now we can dig into the details instead of this cursory view of what American manufacturing is. The more acquainted you are with the issues that I face, the more likely you are to relate, or have an educated conversation, or invest."

WINNING
The judges have concluded their review and make their way back to the stage. Once again, the lights dim. The audience settles. The room falls silent with anticipation. Janelle Alexander, below, Entrepreneur-in-Residence for PowerMoves.NOLA takes a front row seat. Still buzzing from the afternoon's pitches, she remarks on a particularly distinctive one by KG Charles-Harris founder & CEO of Quario, a ground breaking conversational analytics software.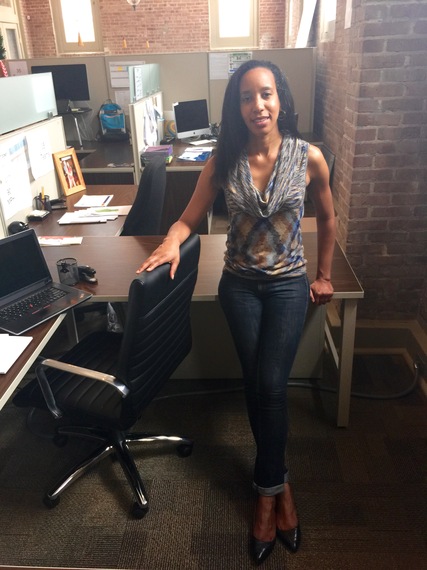 With emotion welling up in her voice, she marvels, "This is what inclusive innovation is all about. If there's no access to capital or resources. Aquarion can't build language software that speaks sequel."
"It speaks sequel," she remarks again, this time as if to herself. "If he didn't have the capital, how could he do this for his company? For that matter how could any of them?"
A few minutes later, a winner is finally announced: Jewel Burks, Co-founder and CEO of PartPic. Her company is an enterprise software solution that simplifies the search and purchase process of replacement parts using a proprietary visual recognition technology. For the Atlanta native, this win means an opportunity for her business to continue growing – and attract additional investment.
As she walks off stage, the crowd let's loose. The sound of their unrestrained applause carries past the room, through the lobby, eventually mixing with the sounds of ESSENCE Festival performers at the nearby Mercedes-Benz Superdome. Contestants and judges join in the applause as they leave the stage. They, as well as the audience cheering them, seem to know instinctively: one entrepreneur walked away with the cash prize, but PowerMoves.NOLA has made them all winners.
All Portraits Photographed on the new iPhone 6 / Courtesy of Apple
All Portraits Staged & Captured On-Site at PowerMoves.NOLA Headquarters in New Orleans by
Grimmond Groupe
Learn more about PowerMoves.NOLA and its Second Annual National Convention here.